TX RX Systems Inc.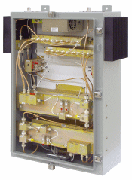 When radio coverage is impaired inside structures, tunnels and other obstructed areas, signal boosters often offer the best value solution. TX RX Systems Inc. is the leader in high performance, low maintenance, FCC approved signal boosters.
Since developing the industry's first signal booster for Motorola in 1985, TX RX Systems has grown to offer the broadest, most flexible line of signal boosters for Motorola customers, including 800/900, UHF, VHF and fiber optic RF distribution. In addition to providing substantial value to nationally recognized enterprises, TX RX Systems signal boosters are the brand most specified by public safety agencies for whom critical, reliable communications are a must.
As a Motorola Preferred Vendor, TX RX Systems provides the highest level of customer service, product reliability and ease of access through your account manager. Our system design and application expertise is backed by TX RX System's 25 plus years of experience.
Put your radio signals where your people are. Contact us today to find out more about TX RX Systems in-building coverage solutions.